We've partnered with Southwest Labs to provide COVID-19 testing services at the Albuquerque International Sunport. Travelers now have the option to purchase a test while making their way through the Sunport.

Southwest Labs is an independent clinical laboratory providing COVID-19 testing for individuals, healthcare providers, and businesses. Test results are provided directly to the patient via e-mail or through a secure app and to the appropriate government agencies, including the New Mexico Department of Health.
For specific questions about testing, please contact Southwest Labs at 505-609-5227.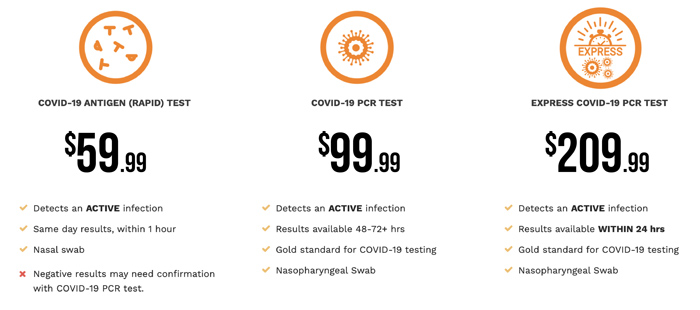 The testing site is located on the 3rd level, just before the TSA Checkpoint, near the Meet and Greet Area. Look for the Southwest Labs signs and intake table. Testing will be available to travelers for walk-in services or by appointment daily from 5am to 8pm.
Governor Lujan-Grisham Rescinds Executive Order Requiring Travelers to Self-Quarantine
Effective February 10, 2021, all arriving passengers are still advised, but not required, to self-quarantine upon arrival for 14 days or the duration of their stay, whichever is shorter.
Click Here

to view Executive Order 2021-006.

This supersedes Executive Order 2020-075, which

required

travelers to self-quarantine.

If you have specific questions about this order, we recommend contacting the NM Department of Health COVID-19 Hotlines at

833-551-0518

or

855-600-3453.
we're taking proactive steps to mitigate the spread of COVID-19
Since the early stages of the outbreak overseas, the Albuquerque International Sunport has taken preventative steps and established procedures to mitigate the spread of COVID-19 both inside the terminal and into our community. The safety of our passengers, staff and community is our top priority.
PLEASE NOTE: Changes and cancellations to flights are frequent and ongoing. Please check directly with your airline for up-to-date info.
enhanced cleaning and sanitizing
Our custodial crews have implemented enhanced cleaning and sanitation procedures with a focus on high-touchpoint public areas, such as handrails, elevator buttons, water fountains and seating. We have also increased the cleaning schedule of restroom facilities, added hand sanitizer stations and are paying special attention to ensuring those stations are maintained.
We've implemented an autonomous robotic cleaning system that safely sanitizes the terminal every night after the last flight. The Breezy system works with our custodial crew to add an additional layer of protection.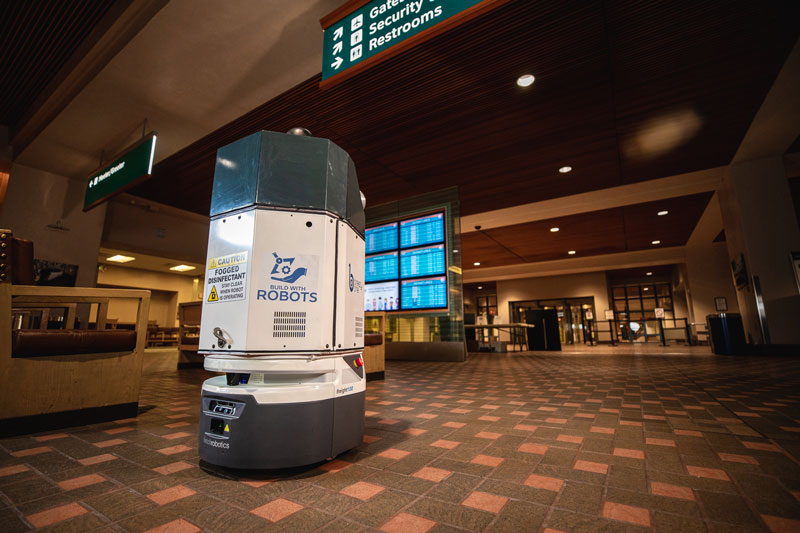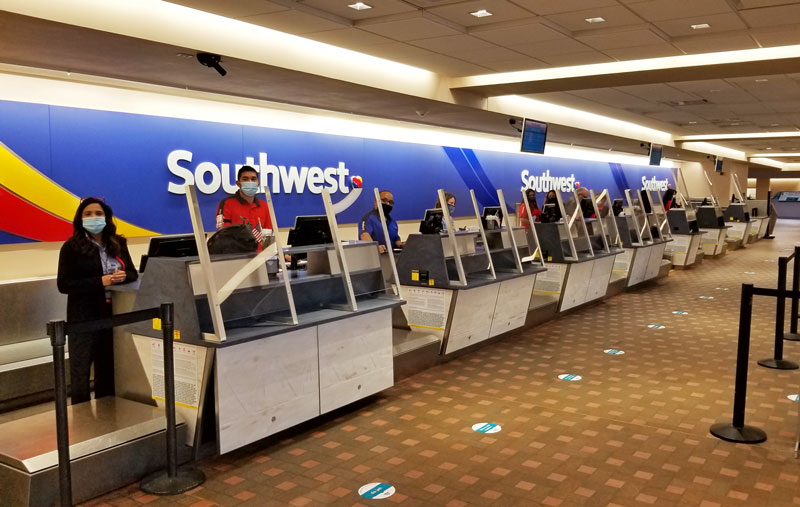 Face coverings are required for passengers and staff in all public areas

If you do not have a face covering, we are providing free face masks (3rd level, before the security checkpoint)

Sneeze guards have been installed on counters
We have implemented social distancing floor decals and informative signage throughout the terminal and make regular PA announcements reminding people of Covid-safe practices.
Seating has been reduced or spaced apart
Daily temperature checks are required for staff
Mandated by multiple federal agencies, face masks are still required on airport property. For those that do not have a face mask, they are being provided, free of charge, at a table in the Meet and Greet Area. 
Place small items such as wallets, keys and phones inside bags rather than into bins
TSA is now allowing up to 12 oz. hand sanitizer in carry-on bags
TSA is accepting expired state licenses with an expiration date of 3/1/20 or later
tips for staying healthy if traveling
PLEASE NOTE: If you feel sick, please STAY HOME.
practice routine, rigorous hand washing
maintain at least a 6 foot distance from others
wear a face mask
avoid touching your eyes, nose and mouth
keep your belongings and environment clean
cover coughs and sneezes with bent elbow
check the CDC's travel health notices for up-to-date info
If you are picking someone up from the Sunport, meet them at the Arrivals curbside area instead of going inside the terminal
Some of the Sunport's bars, full-service restaurants and shops are temporarily closed to adhere to the State's public health orders. Fast food and pre-packaged take away items are still available and any seating within the food court area has been adjusted to accommodate the 6 foot rule. Click here for a full list of hours and accommodations.