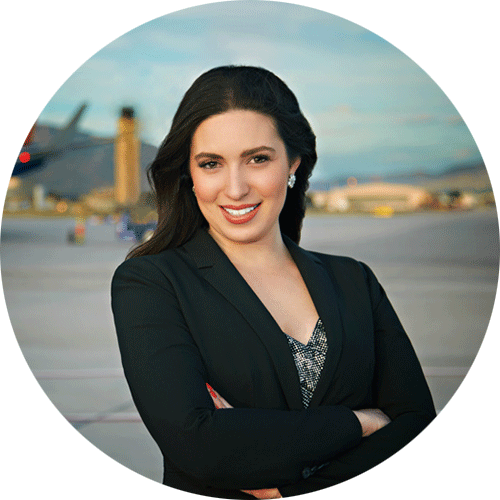 nyika allen, director of aviation
Nyika A. Allen was appointed as Director of Aviation for the City of Albuquerque in February 2018. She is the first millennial to lead a city department and is the first woman to serve as Director of the Department of Aviation. As Director, Mrs. Allen is responsible for management oversite of the largest airport in New Mexico, the Albuquerque International Sunport (ABQ) and Double Eagle II (AEG) General Aviation Reliever Airport. This includes the airports annual operating budget and multi-year capital program. Director Allen is a founding member of the New Mexico Land of Enchantment Chapter of Women in Aviation International an organization dedicated to the encouragement and advancement of women in all aviation career fields and interests.
According to the most recent economic impact study, ABQ and AEG generate $2.25 billion annually in economic impact for the region.
Under Mrs. Allen's leadership, ABQ has expanded its route portfolio, completed a $30 million-dollar terminal renovation, taxiway reconstruction, added new streamline exit-doors, a nursing room and a pet relief area. Mrs. Allen has led the effort to partner with the electric utility to perform major upgrades to the electrical infrastructure, negotiated a water reuse contract with the water authority to save millions of gallons of potable water per month, and was awarded funds to purchase electric passenger busses and charging stations for EGSE.
A major focus of Mrs. Allen's has been enhancing the customer experience at the Sunport. In 2018 and 2019, the airport was recognized by JD Power's North America Airport Satisfaction Study as a top 10 medium hub airport. In 2020, the Sunport jumped 5 spots, achieving the ranking of 4th best in North America. It was also recognized by Art Desk Magazine as having one of the top 9 airport art programs in the world.
Prior to her time in Aviation, Mrs. Allen was President & CEO of the New Mexico Technology Council (NMTC). She is the former 'Tech Expert' on Fox New Mexico, Chair of the New Mexico Association of Commerce and Industry's Entrepreneurship and Technology Committee, Chair of the TechHire NM business advisory council and a 2015 TEDxABQ main event speaker.
She holds a BBA in International Management from the Anderson School of Management at the University of New Mexico and the UNM Honors Program. Nyika graduated magna cum laude with both university and scholastic achievement honors and a special international designation.
Mrs. Allen has both worked, studied, and traveled to over 19 different countries. She has served on many boards and advisory councils for multiple organizations such as: the Small Business Assistance Program (managed jointly by Sandia and Los Alamos National Laboratories), New Mexico EPSCoR, UNM Anderson Alumni Council, UNM Economic Development Forum, Albuquerque Economic Development, Kirtland Airforce Base Honorary Commander, the Mid-Region Council of Governments – Workforce Connections of Central NM and was recognized as an Albuquerque Business First 2016 Women of Influence honoree, a 40 Under 40 honoree and the most influential 40 under 40 for the class of 2016.