Sunport Unveils New Artist-Led Public Art Project
Mayor Tim Keller and the Albuquerque International Sunport unveiled the most recent addition to their public art program, a large commissioned piece that highlights Albuquerque's unique cultural crossroads. A total of 11 women artists, led by Sheri Crider, contributed to the overall image, which has been in the works since 2019. It is modeled after the bold, graphic style of a 1950's postcard and includes sophisticated symbols of Albuquerque's complex history.
"Albuquerque has always been a city of creatives and artists—and in the coronavirus pandemic, we're stepping up to support this community. That includes grants directly to working artists and a focus on keeping commissioned projects moving forward," said Mayor Tim Keller. "This new piece brought nearly a dozen artists together to tell visitors about who we are from the moment they arrive in our city."
"This new addition to our art program brings a great splash of color to Sunport Boulevard, while giving visitors a taste of New Mexican culture," said Nyika Allen, Director of Aviation for the City of Albuquerque. "The piece looks amazing as a whole, but with a closer look, each letter contains beautiful details and is a work of art in itself."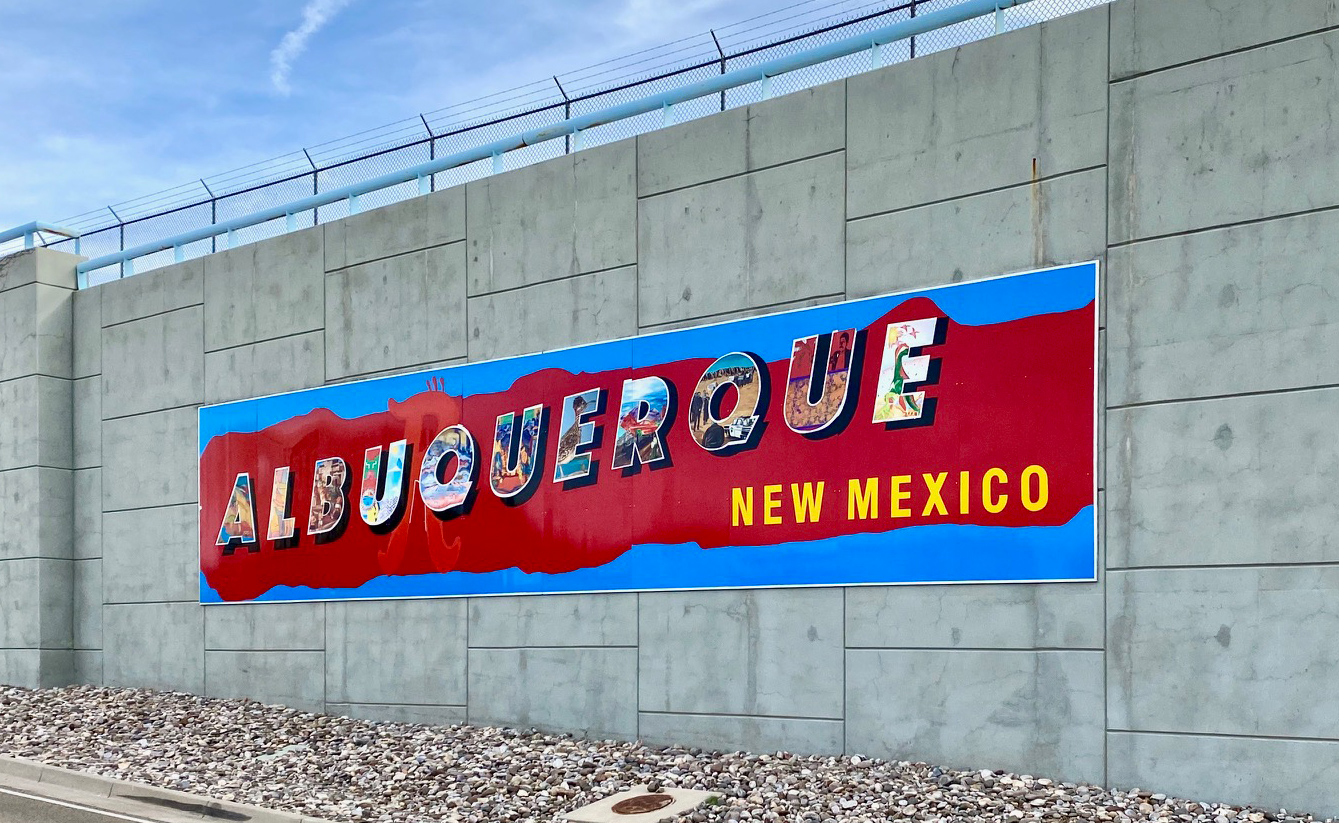 The piece was created by a collaborative team led by professional artists Sheri Crider, Nanibah Chacon, Grace Rosario Perkins and Andrea De León. Over two months, seven youth artists from regional high schools developed content for each letter of ALBUQUERQUE, showcasing popular cultural icons and buried histories that uniquely honor the rich cultural diversity of the city. The second phase of the project will feature an exhibition of the 11 separate artworks inside the Sunport. The artists completed the piece out of Sanitary Tortilla Factory, a studio and exhibition space in downtown Albuquerque.
Sheri Crider is a visual artist, community builder and civil rights dreamer. She received a BFA from the University of Arizona and a fine arts scholarship and MFA from the University of New Mexico. Her work has been exhibited nationally, with recent solo and featured exhibitions at the University of New Mexico and University of Arizona Art Museums and the Museum of Fine Arts in Santa Fe.
"The collaborative studio was an incredible opportunity to work with the region's most important female artists and welcome youth artists into a complex dialogue about history, art and representation," said Sheri Crider. "The imagery that these artists created tells a more complicated story about the region."