albuquerque international sunport
The Albuquerque International Sunport, known for its distinct southwestern architecture and cultural décor, is New Mexico's largest commercial airport, welcoming over 5 million passengers each year. The Sunport boasts a large art collection with rotating special exhibits, New Mexican cuisine, and many local artisnal gifts. Served by 8 major carriers, the Sunport offers non-stop service between ABQ and more than 20 destinations, all with worldwide connectivity. The Albuquerque International Sunport is the Gateway of New Mexico.
The Sunport is more than just an airport – it is a cultural gateway that welcomes tourists from all over the world. It is home to distinctive architecture, outstanding collections of southwestern art, delicious local cuisine, and distinctive gift shops, with many amenities to offer passengers and visitors.
The Sunport is owned and operated by the City of Albuquerque and is committed to providing a safe, clean, and passenger-friendly facility for business and leisure travelers alike.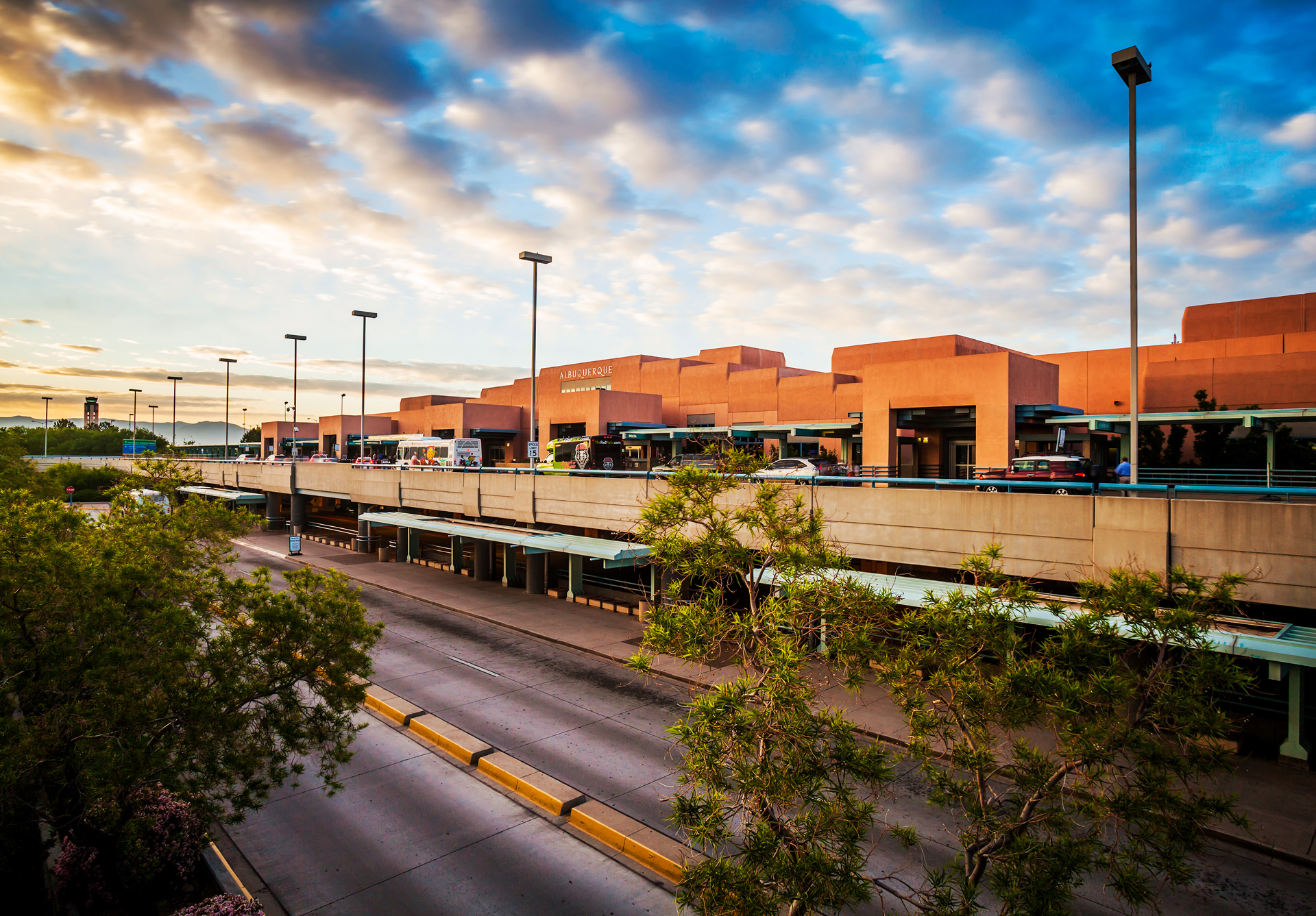 ABQ welcomed 5,405,662 passengers in 2019
There were 151,588 takeoffs and landings, for an average of 415 per day, in 2019: 55,707 by major airlines; 28,491 by commuter airlines, 22,657 by military aircraft; and 44,733 by general aviation aircraft.
ABQ moved 

131,013 tons of cargo in 2019.

ABQ is served by 8 major airlines: Alaska Airlines, American, Delta, Frontier, jetBlue, Southwest, Spirit and United. It also receives regular service from commuter airlines Boutique and Advanced and handles air cargo from Amazon Air, FedEx, and UPS.
Southwest Airlines is ABQ's largest carrier; handling 51% of ABQ's 2019 passengers.
ABQ offers nonstop service to more than 20 cities.
sunport mission
our mission is to provide a safe, authentic, and exceptional new mexico experience that connects families, businesses and cultures

The Terminal Building has approximately 600,000 sq. ft. of total space, including 22 gates in the A and B Concourses used by the major commercial air carriers and the C Gate area which accommodates commuter airlines.
ABQ's elevation is 5,355 feet. Its latitude and longitude are 35 degrees, 02 minutes North and 106 degrees, 37 minutes West.
RWY 08/26: east-west air carrier runway, 13,793 ft. 
RWY 03/21: northeast-southwest air carrier runway, 10,000 ft.
RWY 12/30: northwest-southeast general aviation runway, 6,000 ft.
Two fixed-base operators: Cutter Aviation and Atlantic Aviation
Over 3,000 are people are employed at ABQ.
An economic impact study conducted in 2019 by the University of New Mexico concluded that the Albuquerque International Sunport is responsible for $2.225 billion in economic output for the state and 19,000 jobs are directly or indirectly related to the facility.
public notice – 2023-2025 DBE Goals Meeting
Click here to view a public notice about a DBE (Disadvantaged Business Enterprise) goal-setting meeting for fiscal years 2023-2025.
The Albuquerque International Sunport's Sustainable Airport Master Plan was initiated by the City of Albuquerque. An airport master plan is intended to evaluate the Airport's capabilities and roles to forecast future aviation demand, and to plan for the timely development of new or improved facilities that may be required to meet that demand. The ultimate goal of the master plan is to provide systematic guidelines for the airport's overall maintenance, development, and operation. This planning effort is unique, as it will include sustainable planning goals and objectives.
To learn more about the Sustainable Airport Master Plan, view the Executive Summary here.
tarmac delay contingency plan
The Albuquerque International Sunport has developed a Tarmac Delay Contingency Plan pursuant to 49 U.S.C § 42301(c) (Section 415 of the FAA Modernization and Reform Act of 2012, P.L. 112-95 (2012)).
albuquerque international sunport statistics
passenger facility charge (pfc) quarterly reports