Frequently Asked Questions
What carry-on items can I bring through the airport security Checkpoint?
Where do I get flight information?
Click here to check Albuquerque flight arrival and departure information. You can also contact the airline directly. Have the following information ready:
Name of the airline
Flight number
Origination city / destination city
Departure time and arrival time
How can I get a wheelchair at the curbside?
When you get to the departure level at the Sunport, ask a Skycap for assistance. You may also contact your airline ahead of your scheduled travel to make wheelchair arrangements.
How can I file a noise complaint or track flights?
Flight Tracking & Noise Complaints: 
Aircraft typically arrive and depart heading into the wind. At the Sunport, winds tend to flow out of the east and west. Though flight paths in and out of the Sunport are fairly consistent, variations are to be expected based on air traffic, weather conditions, and overall safety.
The Sunport offers a web-based solution for tracking flights and filing noise complaints with the ability to view and track aircraft within the City of Albuquerque and surrounding areas in near real-time. The system provides information such as aircraft operations (arrival, departures, and overflights), aircraft ID and type, altitude, and speed.
For more information and an overview of the Sunport's Flight Tracking and Noise Complaint System, click link below. You may also call the noise hotline at (505) 842-2007.
To file an aircraft noise complaint by phone:
Please call the Noise Hotline at 505-842-2007. This hotline will prompt you to file and record your complaint. When filing a complaint please include the following:
Name, address, and phone number that you can be contacted during business hours
Date and time of occurrence
Nature/description of the disturbance
Description of aircraft if possible (i.e. helicopter, commercial airline, military, private aircraft, and any other distinguishing characteristics)
How do I contact the lost and found?
Items Left at Sunport
For items left at the Sunport—not including the screening checkpoint or airlines/aircraft, contact Albuquerque International Sunport lost & found at (505) 244-7706 (24-hour line).
Left at Screening Checkpoint
For items left at the TSA screening checkpoint, contact the Transportation Security Administration (TSA) lost & found at (833) 359-1324 (24 hour recorded line) or NMLF@tsa.dhs.gov.
Missing from Luggage
For items missing from checked luggage, contact the Transportation Security Administration (TSA) lost & found at (833) 359-7324 (24 hour recorded line), (866) 289-9673 (Business hours), or check online at www.tsa.gov.
Left on Aircraft
For items left at a boarding gate or on aircraft, contact the specific airline.
How can I get my luggage out of a baggage service office?
Please contact the airline you are traveling for their baggage service office hours.
What is the Sunport's smoking policy?
Smoking is prohibited throughout the Albuquerque International Sunport, including restaurants and inside the terminal. Smoking is allowed in designated areas outside the terminal.
What is the pet and animal policy at the Sunport?
The Sunport is a public building and adheres to the City of Albuquerque ordinances pertaining to animals in public areas. It is the responsibility of pet owners to follow these policies and control their animals for the safety of the general public.
All dogs and/or other animals must be restricted at all times and may not run at large on City property
Traveling animals, including Emotional Support and Therapy Animals, must be confined to a carrier or leash at all times
Leashes may not exceed 8 feet
Service Animals are commonly found at the Sunport, and New Mexico State Law finds that "unrestrained animals constitute a danger to qualified service animals and public safety." The rights of Service Animals and their handlers are supported by the ADA (Americans with Disabilities Act of 1990). It is unlawful for any person to:
Intentionally interfere with the use of a qualified service animal by harassing or obstructing the handler and/or Service Animal
Fail or refuse to control an unrestrained animal or to allow an animal to interfere with or obstruct the handler and/or Service Animal
Sunport Pet Relief Area Located Near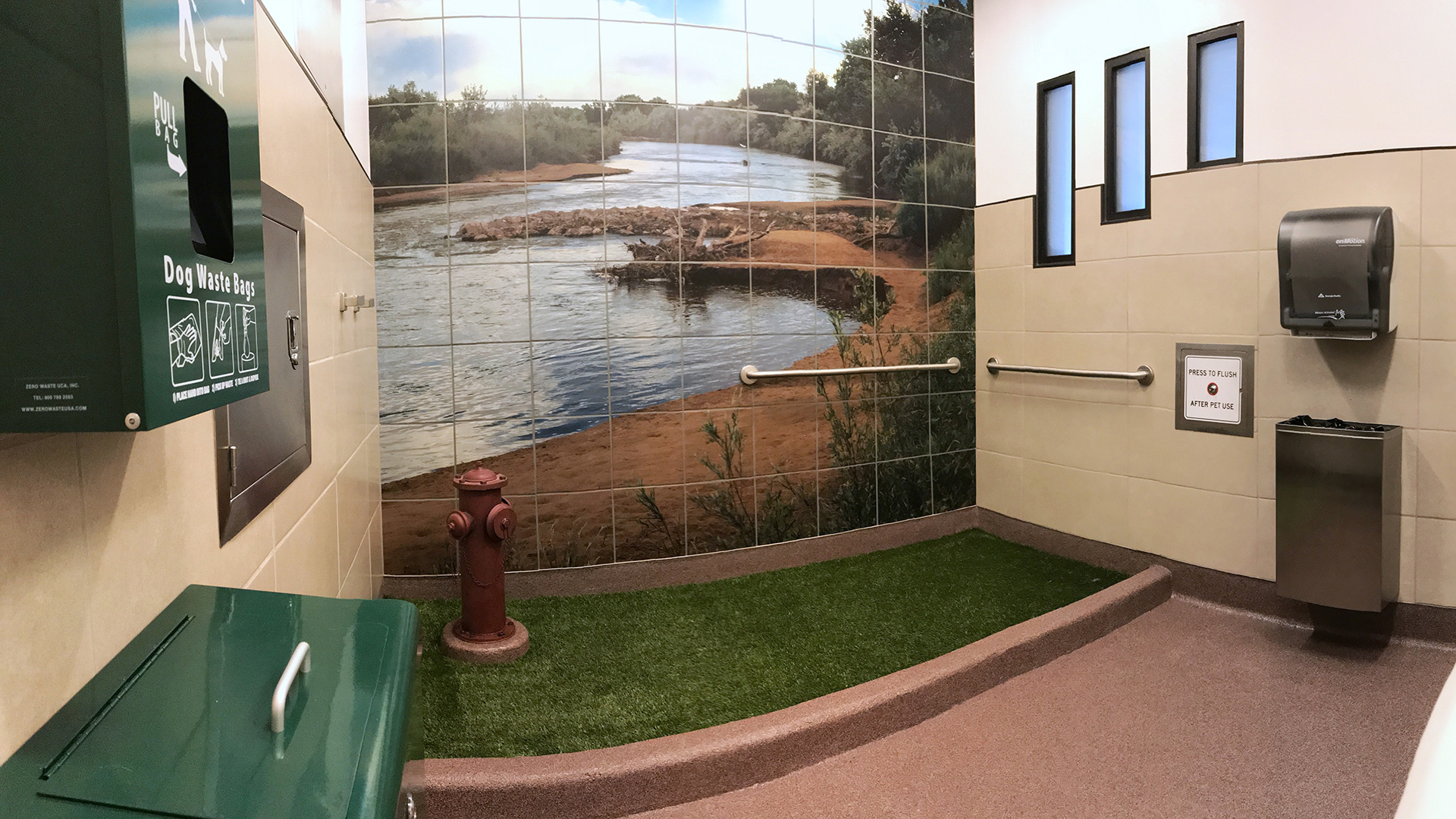 How can I escort my child to the boarding gate?
Policies regarding escorting children past the security checkpoint to the gate area vary from airline to airline. Contact the airline your child is traveling regarding their policy.
Can I page a passenger at the airport?
Yes. Contact the Airport Communications Center at 505-244-7706.
What shuttles run between the airport and Santa Fe?
There are a number of shuttle companies that provide service between the Sunport and Santa Fe. Contact information is available on our Ground Transportation page. Contact the shuttle companies directly for departure times and fees.
Does the Sunport ever close?
The facility is open 24 hours a day, 7 days a week, 365 days a year. Only safety or operational circumstances could cause public access to the airport to be restricted. Bad weather may cause flight delays and cancellations. Contact your airline for flight information.
Can I report debris at or near the airport?
Contact the Airport Communications Center at 505-244-7706 and let them know the location of the problem and what needs to be removed. They will work with the Aviation Airfield Division, which is responsible for clean-up and removal.
Who cleans snow and ice at and near the airport?
The Aviation Airfield Division. Contact the Aviation Communication Center at 505-244-7706 and let them know the location of the problem.
Can I get help at the Sunport if my car will not start?
Yes, if our equipment is available and staffing levels permit, jumpstarts can be provided. If we are unable to provide assistance, you may need to contact your roadside assistance for help. You can contact the Parking Office at 505-244-7883 or the main number of the Sunport at 505-244-7700 to request assistance.
Can I hold meetings or receptions at the Old Terminal?
Yes. The Old Airport Terminal is available for rent or lease to the public. Tia Juanita's, located on the 3rd level of the terminal, also has space available for meetings and other public events. For more information, contact Doug Lutz at dlutz@cabq.gov.
Is there a mail and package drop at the Sunport?
For passenger convenience, a USPS mailbox is located outside the building on the ticketing level between the Jet Blue and Alaska ticket counters.
Are currency exchange services available at the Sunport?
No, please be sure to have currency exchanged before your flight.